Nazi Germany's Holocaust of Jews provides a historical model of precedence with which to reticently observe the State of Israel's state-sanctioned racism, exiling and war crimes against the Palestinians. I make no apology for this standpoint. As Holocaust survivor Suzanne Weiss states:
"

The tragic experience of my family and community under Hitler makes me alert to the suffering of other peoples denied their human rights today -- including the Palestinians."
"The Palestinians are victims of ethnic cleansing and apartheid. Hitler started with that, but went on to extermination...
"Yet for me, the Israeli government's actions toward the Palestinians awaken horrific memories of my family's experiences under Hitlerism: the inhuman walls, the checkpoints, the daily humiliations, killings, diseases, the systematic deprivation. There's no escaping the fact that Israel has occupied the entire country of Palestine, and taken most of the land, while the Palestinians have been expelled, walled off, and deprived of human rights and human dignity."
It is true that there has yet to have been an industrial mass murder of
Palestinians
comparable to the Holocaust. But a systematic and cultural dehumanisation of the
Palestinians (including Jews in the Palestinian territories!)
, which has motivated the murder, torture, rape and
deposing
of tens of thousands of men, women and children over decades is, in the practice of ethno-religious hatred it represents, wholly similar to K
ristallnacht and
Lebensraum.
A second Holocaust could happen; the Balkan crimes of the 1990s has been the closest thing to it. The instruments of murder are hypothetical, but it is a willfully naive historical and sociological illiteracy to not comprehend how the enormity of the
preexisting
and historical crimes against the
Palestinians could incite precise and observational comparisons to Nazi antisemitism, along with concerns that they could lead to atrocities even more unspeakable.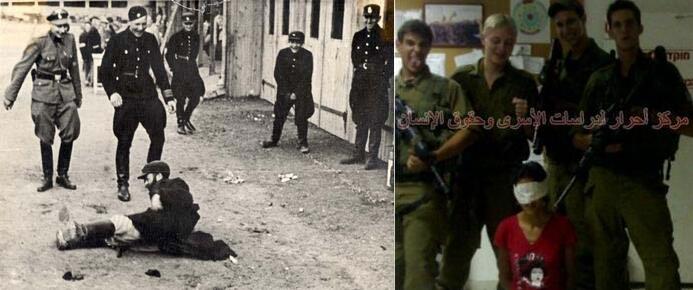 A Jewish man abused like an animal by the Nazis and a Palestinian girl abused like an animal by the IDF.
Or, if we prefer, we can give free reign to fascistic Israeli war criminals to defile and manipulate Nazi Germany's crimes against humanity, its victims and survivors, to facilitate their own.